Madame Deals Events is hosting a FREE giveaway event for fellow bloggers.
The giveaway runs June 14th to June 30th 2012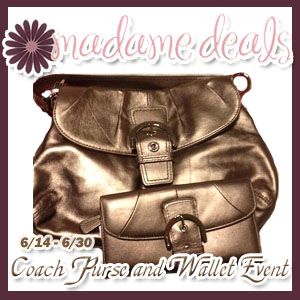 The giveaway is for a Coach Purse and Wallet.
Open to the US & Canada.
All bloggers have to do to participate is create a post on their blogs (Like this one!) advertising the event for fellow bloggers and sign up
HERE.
Don't Forget to Join
Madame Deals Free Events Facebook Page
...for updates on FREE blogger Events!, THANKS, Madame Deals!
ps. There is a referral contest, and I'd love it if you let them know (in the signup form) that I (Krystyl N' Co ) Sent you!